Chugiak High School
Anchourage, Alaska
Monday July 27 - Friday July 31, 2009
• Home • CampHostingInfo • StandardCamp • HighExpecationsCamp • MaxExpectationsCamp • Staff • In-SeasonClinics • 10ReasonsWhy • Camp Calendar2013 • A Complete List! •
2009 STAR Calendar • FranklinCo2009 • Riverheads2009 • HighExp@ECGlass2009 • Timberlake2009 • RoanCath2009 • Fuqua2009 • StMarysPA2009 • ChugiakAlaska2009 • RedLionDE2009




VARSITY STARS

Back Row: Coach Chelsea Guarco, Amber Curry, Elyse Perez, Anna Matthews, Karlee Kavanaugh, Molly Matthis, Coach Katie Hulse.

Middle Row: Andrea Foster, Robin Frost, Shannon Yates, Dominah Hererra-Moody, Milly Crapo, Alyssa Klameyer

Front Row: April Labrecque, Emily Watzke, Kasey Kavanaugh, Krystin Labrecque, Jessica Eicher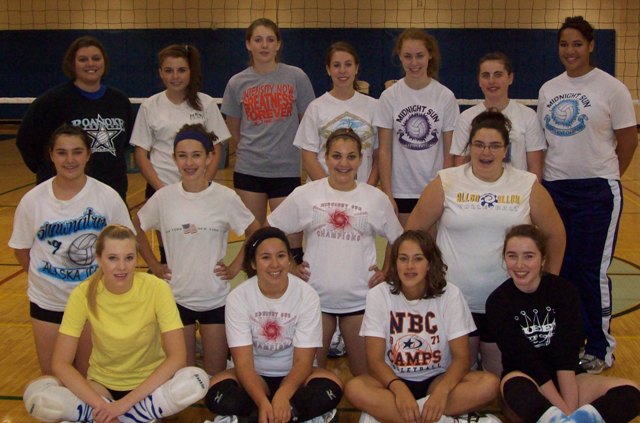 JV STARS

Back Row: Shannon Haynes, Chelsea Helton, Kristy Howard, Alexis Markadakis, Kacidra Hoffman, Kirsten Breuggemann, Coach Sarah Thorpe.

Middle Row: Shawna Alfredo, Danielle Alvarez, Erin Godin, Heidi O'Hara

Front Row: Jessica Wilder, Lauren Baumgartener, Alex Kitchen, Erin Shue





Afternoon Rising STARS

Standing: Coach Marylynn Campnell, Coach Devyn Bayes

Back Row: Sophia Zigmond, Maggie Watke, Kristen Veech, Kim Pekrul, Rachel Topf, Natalie Stark, Mckenna Mitchell, Elle Gray

Front Row: Emma, Victoria, Laura, Brooke, Mckenzie Kutyba, Ashley Equitz, Jo Grode

Not in picture: Ashley Veech




Morning Rising STARS

Standing: Coach Devyn Bayes

Back Row: Shannon Edmiston, Kelsey Metcalf, Kara Haeussler, Allison Baumgartener, Shannon Rasic, Katie Umphrey, Hannah Shuman

Front Row: Sophia Zigmond, Sam Prado, Mckenzie Matthis, McClaine Hargraves, Kristianna Coburn, Mariah Weydahl, Maryann Zmuda, Kathleen Gill


Steal The Bacon Winners!

1st Place!
Elyse, Coach Chelsea, Kristen, Shawna
2nd Place!
Milly, Kacidra, Andrea, Erin

The Varsity STARS Tournament Teams: Blue Devils and Black Out. Too bad the coaches didn't know what to wear.



The AM Rising Star Tournament Teams: The Intimidators & The Epic Eskimos.

~~~~~~~~~~~~~~~~~~~~

On Thursday, we listed our volleyball priorities one through ten!
Closest To Coach Houser: Krysten Labrecque
Closest to Coach Kavanaugh: Amber Foster & Alyssa Kaameyer
Closest to Coach Chelsea: Shannon Yates

~~~~~~~~~~~~~~~~~~~~
I would just like to thank you for helping me, or I may speak for everyone, us. It was a pleasure to have you and the assistants here. We definitely enjoyed the company and guidance...from all of you.

We were glad to have you here helping our girls become better players and athletes.

Thanks for everything. It was really nice to meet you and Shannon and Devyn, and I hope to see you guys somewhere in my volleyball future. I hope you enjoyed coaching the camp as much as I know everybody enjoyed having you. in my volleyball future. I hope you enjoyed coaching the camp as much as I know everybody enjoyed having you.!

I was just writing to say how much I enjoyed the camp. It was nice how the different levels of players were split up on the courts, but we still got to interact with each other and meet new people.

I really appreciated that you made us do a lot of drills that involved doing hand digs. I feel that I've never been a good setter and I'm always scared to take balls with my hands, but after camp I'm completely comfortable with it. The newly acquired skill will definitely help in the upcoming season. Another thing I really liked was the level of intensity that you helped bring to our courts. The tournament on the last day was especially fun,

i was on the youngest group. and i am going to be a freshman in high school! i really do hope i make the team! i just wanted to thank you for everything you put into this camp making it possible! i had a great time! and it was great to keep on practicing my skills!! i will try to email my coaches from the camp too! thanks again!

My daughter couldn't say enough about how great a coach you were. It was the best camp she had participated in so far. The drills were very helpful and it also gave her a chance to reconnect with the team players after the summer. She is really looking forward to volleyball again this year and it does my heart good to see her so passionate about something! Take care and I hope you can make it back next year.
Captains Of The Day


Veteran STARS:
Monday -- Milly Crapo
Tuesday -- Jessica Eicher
Wednesday -- Kasey Kavanaugh
Thursday -- Emily Watzke
Friday -- Robin Frost


JV STARS:
Monday -- Lauren Baumgartener
Tuesday -- Jessica Wilder
Wednesday -- Erin Godin
Thursday -- Erin Shue
Friday -- Shawna Alfredo

Rising STARS (pm):
Monday -- Ashley Equitz
Tuesday -- Mckenzie Kutyba
Wednesday -- Brooke Deans
Thursday -- Laura Soltis

Rising STARS (am):
Tuesday -- Shannon Rasic
Wednesday -- Kristianna Coburn
Thursday -- Kara Huellesen
Friday -- Allison Baumgartener

~~~~~~~~~

TOURNAMENT FRIDAY MORNING!
10:45am to 12:40 on Varsity STARS court.
The same on the JV STARS court.

~~~~~~~~~
2009 Camp Format:

Varsity STAR and JV STAR:
Monday 1 to 4.
Tues - Thurs 9 to 4 (with 1 hour lunch break)
Friday 9am to 1pm.

Division #2:
Rising Star:
The p.m. session: Monday through Thursday 1pm to 4pm
The a.m. session: Tues through Friday 9am to noon.

Cost: tba

Maximum Campers: 15 varsity, 15 JV.
Also 30 Rising Stars (15 morning, 15 afternoon)

Registration Info: The registration form is here!

Divisions: Coach Kavanaugh split the girls into
the three divisions that you see above.

If you have any questions about the camp, you may email the camp director, Coach Houser,
at coachhouser@yahoo.com or the camp host,
CHS Kelly Kavanaugh at Kavanaugh_Kelly@asdk12.org



List Of Camp Assistants:


Shannon Haynes
Shannon graduated from Bassett High near Martinsville Va in 1999. She played for Coach Houser at Bassett for the only two years that team has ever made the state tournament! As a senior in high school, she was 1st Team All Conference, 1st Team All Region, 2nd Team All State. Her senior team also made the Virginia state final 4. She then went on to play college volleyball at UVa-Wise in Wise Virginia. She graduated from Ferrum College in 2006 and is the mother of Ethan! She has been the assistant coach of Coach Houser's junior teams for the past 4 years. The 2006 junior team qualified for Nationals......and she was a big reason we qualified! Shannon has assisted with five STAR camps and been the rookie director at one. Her email is: shaynes19@yahoo.com


Devyn Bayes
Devyn is a junior at Ferrum College, where she made the team as a walk-on her freshman year!! She graduated from George Washington High School in Danville, VA in 2007, where she played volleyball for six years. Devyn gives private volleyball lessons in Roanoke on many Saturday & Sunday nights that her schedule allows! Devyn has now assisted at eleven STAR volleyball camps. Her email is: dbayes@ferrum.edu Screen Name: bowlingdevil9007 MySpace Page: http://www.myspace.com/21189496



Thank you to the following assistants!!!
Chelsea Guarco Sarah Thorpe,
Marylynn Campnell
Erin Carrick & Katie Husle!
You guys were awesome!

INCREDIBLE SCENERY!!

Chugiak

High School

info:



Touch here to see the CHS website.

16525 S Birchwood Loop Road
Chugiak, Alaska
99567

Phone Number: 907-742-3050
Fax Number : 907-742-3148

Touch here to see a map to the school.

The coaches are staying in the Microtel Inn in Eagle River, 5 minutes from the school.


• StandardCamp • HighExpectationsCamp • CoachesCampInfo • Staff • InSeasonCamps • TenReasonsWhy •
• 2005 STAR Calendar • Bassett2005 • BassCommCenter2005 • JeffersonForest2005 • Westover2005 • Narrows2005 • AnEntireList • Search CoachHouser.com •
• 2006 STAR Calendar • JeffersonForest2006 • WestoverChristian2006 • Lebanon2006 • NewCovenant2006 • Bassett2006 • RedLionDE2006 •
• 2007 STAR Calendar • WestoverChristian2007 • JeffesonForest2007 • Timberlake2007 • RedLionDE2007 • OconeeSC2007 •
• 2008 STAR Calendar • WestoverChristian2008 • Jeff Forest HighExp 2008 • JeffForest2008 • StMary'sPA2008 • RoanCath2008 • RedLionDE2008 •
2009 STAR Calendar • FranklinCo2009 • Riverheads2009 • HighExp@ECGlass2009 • Timberlake2009 • RoanCath2009 • Fuqua2009 • StMarysPA2009 • ChugiakAlaska2009 • RedLionDE2009
2010 STAR Calendar • DanRiver2010 • HighExp@VES2010 • Timberlake2010 • RoanCath2010 • StMarysPA2010 • VirginiaEpiscopal.2010 • PatrickCounty2010 • Fuqua2010
• Home • 2011 STAR Calendar • Timberlake2011 • DanRiver2011 • JamesRiver2011 • HighExp@VES2011 • MaxExp@VES2011 • RoanCatholic2011 • Carlisle2011 • PatrickCo2011 • Westover2011 • Facebook •
• Home • 2012 STAR Calendar • Timberlake2012 • Dan River2012 • MagnaVista2012 • HighExp2012 • MaxExp2012 • Westover2012 • RoanokeCatholic2012 • Carlisle2012 • PatrickCounty2012 • PaulVI2012 • JohnBattle2012 •
| | |
| --- | --- |
| Last updated: 12/21/2011 08:40 AM | |