Westover Christian Academy
VACA 2011, 2012, 2013 and 2014 State Champions
VISSA DivisionIII State Champs in 2014!
Monday July 27 - Thurs July 30, 2015
Danville, Va Directed by Tom Houser


• Home • CampHostingInfo • StandardCamp • HighExpecationsCamp • MaxExpectationsCamp • Staff • In-SeasonClinics • 10ReasonsWhy • Camp Calendar2015 • A Complete List! •
• 2015 Camp Calendar • PatrickHenryCommCollVa2015 • AlleghanyVa2015 • LebanonVa2015 • HighExpVA2015 • CollegeExp2015 • ElMolinoCA2015 • HighExpCA2015 • FoothillsVballClubSC2015 • PatrickCountyVa2015• WestoverChristianVa2015 • GretnaVa2015 • SouthCaldwellNC2015 • Facebook •

Minor League Award Winners!



Westover Christian STAR Camp 2015!
Back Row: Coach Katey Holley, Madeleine Spicer, Skylla Goddard, Erin Saunders, Lauren White, Hannah Motley, Danielle Saunders, Rebekah Ehrat, Ann Marie Mayes, Coach Addison Goodman, Coach Jacob Nunn.
Middle Row: Carter Beth Cassell, Bella __, Mary Paige Fulcher, Kaylee Compton, Abby Briscoe, Faith Alderson, .
Front Row: Emily Butts, Sydney Martin, McKenzie Moore, Jennifer Weeks, Morgan Hall, Kristen Sellers, Rachel Saunders.

~~~~~~~~~~~~~~~~~~~~~~~~~~~~~~~~~~~~




2015 Camp Format:

Minor League: 9am to noon.
Major League: 12:30pm to 5pm.(canceled)

Girls from other schools will be invited!

Cost:
Minor League: $100 for non-WCA students. $90 for WCA students.
Major League: $135 for non-WCA students. $125 for WCA students.(canceled)

Registration Form:
The 2015 registration form is here!

Number Of Campers:
Minor: There will be a 40 camper limit.
Major: There will be a 25 camper limit. (canceled)

~~~~~~~~~~~~~~~~~~

Pictures from the 2010 - 2014 camps are on Facebook!
They are here!!

~~~~~~~~~~~~~~~~~~~

If you have any questions about the camp, you may email the camp director, Coach Houser,
at coachhouser@yahoo.com, or you
may contact the camp host, Jacob Nunn, at jmnunn@aumail.averett.edu





Camp Director:

Tom Houser
Coach Houser is the owner of STAR Volleyball Camps. He is the author of the "I Can't Wait" to coach books, and Drill Collection. He is presently coaching a 15's National club team in Roanoke, Virginia. You can see more about Coach Houser here.


Minor League Director:

Katey Holley
Katey is a junior at Averett University in Danville, Va, where she's played 3 years on the volleyball team. Much of the time she has been the starting libero. She is a 2012 graduate of Westover Christian. She played school ball for 6 years, club ball for 3 years. During her senior year at WCA, the team won their first ever VACA state championship and she was named tournament MVP. That same year, she was named Metro Danville Player Of The Year. The article is here. She has assisted with fourteen STAR camps, has directed divisions at six, and has also coached 4 years of youth volleyball in Danville. You can contact Katey at kmholley@aumail.averett.edu


Camp Assistants

Addison Goodman
Addison is a 2014 graduate of Timberlake Chrisitan School, where she was the captain of the team her jr and sr years. Addision started playing vball in the 6th grade, played 7 years of school vball, and 4 years of travel vball. In both her jr and sr seasons, she was named 1st team All-Conference and 2nd team All-State. She also attended 6 STAR & Expectations camps. Addison is now a freshman at Liberty University. You can contact her at atgoodman@liberty.edu

• 2005 WCA Camp • 2006 WCA Camp • 2007 WCA Camp • 2008 WCA Camp • 2011 WCA Camp •
• 2012 WCA Camp • 2013 WCA Camp • 2014 WCA Camp • 2015 WCA Camp •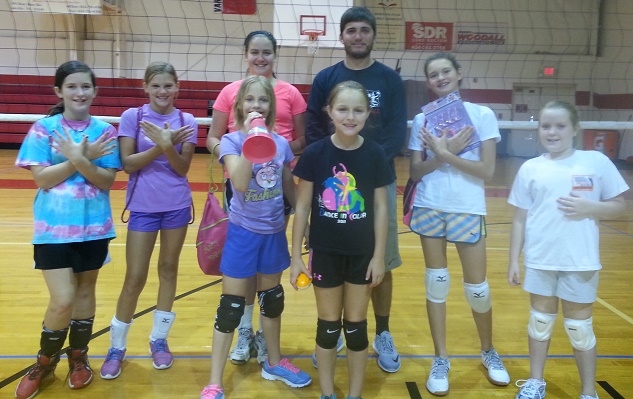 Westover Christian Academy info:

Touch here to see the WCA website.

5665 Riverside Drive
Danville, VA 24541
Phone: Phone: 434-822-0800

Touch here for directions to the school.



• Home • CampHostingInfo • StandardCamp • HighExpecationsCamp • MaxExpectationsCamp • Staff • In-SeasonClinics • 10ReasonsWhy • Camp Calendar2013 • A Complete List! •
• 2005 STAR Calendar • Bassett2005 • BassCommCenter2005 • JeffersonForest2005 • Westover2005 • Narrows2005 • AnEntireList • Search CoachHouser.com •
• 2006 STAR Calendar • JeffersonForest2006 • WestoverChristian2006 • Lebanon2006 • NewCovenant2006 • Bassett2006 • RedLionDE2006 •
• 2007 STAR Calendar • WestoverChristian2007 • JeffesonForest2007 • Timberlake2007 • RedLionDE2007 • OconeeSC2007 •
• 2008 STAR Calendar • WestoverChristian2008 • Jeff Forest HighExp 2008 • JeffForest2008 • StMary'sPA2008 • RoanCath2008 • RedLionDE2008 •
2009 STAR Calendar • FranklinCo2009 • Riverheads2009 • HighExp@ECGlass2009 • Timberlake2009 • RoanCath2009 • Fuqua2009 • StMarysPA2009 • ChugiakAlaska2009 • RedLionDE2009
2010 STAR Calendar • DanRiver2010 • HighExp@VES2010 • Timberlake2010 • RoanCath2010 • StMarysPA2010 • VirginiaEpiscopal.2010 • PatrickCounty2010 • Fuqua2010
• Home • 2011 STAR Calendar • Timberlake2011 • DanRiver2011 • JamesRiver2011 • HighExp@VES2011 • MaxExp@VES2011 • RoanCatholic2011 • Carlisle2011 • PatrickCo2011 • Westover2011 • Facebook •
• Home • 2012 STAR Calendar • Timberlake2012 • Dan River2012 • MagnaVista2012 • HighExp2012 • MaxExp2012 • Westover2012 • RoanokeCatholic2012 • Carlisle2012 • PatrickCounty2012 • PaulVI2012 • JohnBattle2012 •
• Home • 2013 STAR Calendar •Appomattox2013 • HighExp2013 • CollegeExp2013.htm • MacArthurOK2013 • RoanCath2013 •Chatham2013 •HillcrestMiddleCA2013 •Westover2013 • JohnBattle2013 • SouthCaldwellNC201
2014 Camp Calendar • PulaskiCo2014 • FoothillsVballClubSC2014• StateLineClub2014 • Appomattox2014 • Gretna2014 • HighExp2014 • CollegeExp2014 •AnalyCA2014 • JohnBattle2014 • WestoverChristian2014 • PatrickCounty2014 • LibertyVa2014 • Facebook •
• 2015 Camp Calendar • PatrickHenryCommCollVa2015 • AlleghanyVa2015 • LebanonVa2015 • HighExpVA2015 • CollegeExp2015 • ElMolinoCA2015 • HighExpCA2015 • FoothillsVballClubSC2015 • PatrickCountyVa2015• WestoverChristianVa2015 • GretnaVa2015 • SouthCaldwellNC2015 • Facebook •


| | | |
| --- | --- | --- |
| | If anyone is interested in some one-on-one training. Coach Houser offers player training in Roanoke. There are athletes who come from Pulaski, Martinsville, Hillsville, Lynchburg, etc. The website is here. It's a TON of fun!! Please pass the word!! If you or your teammates have any questions, you can email him anytime at coachhouser@yahoo.com | |