Roanoke Catholic School
VISAA 2011, 2012 and 2013 VISAA State Champions
Monday July 15 - Thursday July 18, 2013
Roanoke, Virginia Directed by Johnathan Willis, head coach at Randolph College!
• Home • CampHostingInfo • StandardCamp • HighExpecationsCamp • MaxExpectationsCamp • Staff • In-SeasonClinics • 10ReasonsWhy • Camp Calendar2013 • A Complete List! •
• Home •Appomattox2013 • HighExp2013 • CollegeExp2013.htm • MacArthurOK2013 • RoanCath2013 • Chatham2013 •HillcrestMiddleCA2013 •Westover2013 • JohnBattle2013 • SouthCaldwellNC • Facebook




Roanoke Catholic STARS Division 2013!
Back Row: Coach Maribeth Kern, Coach Aidan Guilfoyle, Savannah Butcher, Naomi Collins, Zoe Doubles, Olivia Clark, Samantha Edge, Alexandra Arnold, Ashley Deer,
Danielle Dorman, Allison George, Caroline Poff, Alexandra Abbott, Grace Hedge, Coach Sarah Sparks, Coach Johnathan Willis.
Middle Row: Keely Skelton, Jordan Grinde, Nat LeDonne , Morgan McAllister , Anne Deer, HB Galbreath, Mallorie Noell , Jessie Carpenter , Alexis Borivich,
Grace Wolowski, Jahnvi Patel , Katie Farris
Front Row: Meredith Collins, Jordan Doubles, Katherine Lake, Raleigh Brookshier, Olivia Frank, Hannah Nimmo, Tori Clinevell, Kimmy Smith




Roanoke Catholic Rising STARS Division 2013!
Staff: Aidan Guilfoyle, Gussie Revercomb, Sarah Sparks, Mairin Guilfoyle
Campers Standing: Mikel Johnson, Katie Cross, Isabella Myers, Clara McDaniel, Carrington Scothorn
Kneeling: Hannah Craig, Renee Wright, Lauren Moser, Miette Veldman, Charlsie Dietz, Alison Stoehr, Eden Harrilla
Sitting: Emma Bradley, Emma Smith, Bailey Marshall, Reagan Owens, Avery Poulsen, Sierra Anthony, Breezy Morstad
Hundreds of pictures of the camp can be seen here!
~~~~~~~~~~~~~~~~~~~~~~~~~~~~~~~~~~~~~~~~~~~~~~~~~~~~~~~~~~~~~~~~~~~~
The Rising STAR Tournament Teams!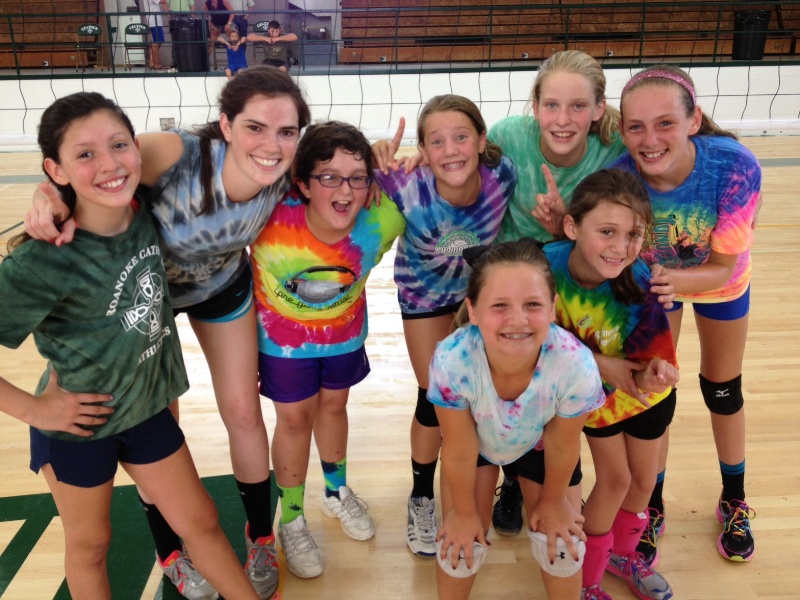 ~~~~~~~~~~~~~~~~~~~~~~~~~~~~~~~~~~~~~~~~~~~~~~~~~~~~~~~~~~~~~~~~~~~~
The STAR Tournament Teams!

Kimmy Smith, Jordan Grinde, HB Galbreath, Savannah Butcher, Mallorie Noell, Tori Clinevell, Olivia Frank, Alexis Borivich, Raleigh Brookshire, Coach Maribeth Kern


Morgan McAllister, Anne Deer, Jordan Doubles, Sam Edge, Zoe Doubles, Katie Farris, Siena Sorrentino, Jahnvi Patel, Roanoke Catholic head volleyball coach Aaron King
Jessie Carpenter, Grace Wolowski, Grace Hedge, Alexandra Abbott, Keely Skelton, Coach Aidan Guilfoyle
Hannah Nimmo, Alexandra Arnold, Naomi Collins

Coach Sarah Sparks, Danielle Dorman, Allie George, Olivia Clark, Caroline Poff
Ashley Deer, Nat LaDonne, Meredith Collins.
Katherine Lake
~~~~~~~~~~~~~~~~~~~~~~~~~~~~~~~~~~~~~~~~~

2013 Camp Info:

STAR Division Captains Of The Day:
Monday: Anne Deer
Tuesday: Zoe Doubles
Wednesday: Nat LeDonne
Thursday: Danielle Dorman

Format:
STARS: 8am to 1pm for $160
The STARS division is FULL!! :)
FOUR MORE HOURS this summer....for the same price!
Girls get 20 hours for a price & coach:camper ratio that no other camp will match!

Rising STARS: 1:30 to 5pm for $115.
This is for the younger players...from very little experience all the way to rookies.

Registration Info:
The 2013 registration form is here.

This Camp Is The
Roanoke Catholic Team Camp:
So come and join us!
You will get to match skills with the defending Division III State Champions!

Maximum Campers:
The maximum number may be 40 in each division!
However, as the numbers get bigger, more coaches will be hired to maintain the 1:4 coach/camper ratio.

Concerned About A hot Gym?
Well, without those windows, it should be much cooler! PLUS, there will be a brand new floor!

Value:
We believe this camp will offer the girls
high quality instruction and will give
more personal attention to the participants.

Is there any other camp where approximately 40 girls will have be able to work with up to nine coaches & assistants?

~~~~~~~~~~~~~~~~~~

If you have any questions about the camp, you may email the camp director, Coach Houser at coachhouser@yahoo.com, or the camp host, Roanoke Catholic head volleyball coach Aaron King at king4life@cox.net.






Rookie Camp Director:

Aidan Guilfoyle
Aidan just finished her sophomore year at Lafayette University in Eaton Pennsylvania, where she plays on the vball team! You can see her bio here. She wasn't able to play this past season b/c of a knee injury, but is planning on coming back strong in fall 2013! While in high school at Roanoke Catholic School, she played 5 years of varsity, 1 year of JV and 7 years of club ball. She was named first team all-state 3 years, and state player of the year as a senior. She was a member of Coach Houser's 2008 15's junior team that was ranked #1 in the Old Dominion Region, and his 2009 Region Champion team that qualified for Nationals Miami in June of 2009. You can contact Aidan at lemonaidan21@cox.net

Camp Assistants:

Maribeth Kern
Maribeth is a freshman at King College in Bristol Tenn where she just played on the vball team. Her bio can be seen here. She is a 2012 graduate of James River High in Botetourt County, Va, where she has had a great vball career, making 1st team all-district 3 consecutive years. Her junior year was unforgettable: District player of the year, 1st team all-state, and her team was the A state champions. You can contact Maribeth at mjkern1@gmail.com

Sarah Sparks
Sarah is a junior at Averett University where she had an all-conference freshman season as a starting middle hitter. She has worked 6 previous STAR camps. Sarah played for Rockingham County HS. She also played for three years under Danny Miller for the Caswell (North Carolina) Volleyball Club. Sarah can be contacted at ssparks01578@aol.com

Tim McSherry
Tim has been playing organized league volleyball for 19 years. He serves on the board of directors for the Roanoke Valley Volleyball Association. www.RVVA.net He was an assistant coach at Faith Christian School for 4 years and acted as head coach for 1 year. He assisted at Roanoke Catholic School in 2009, and then became the head JV coach in the fall of 2010. You can contact Tim at rcemsmedic@cox.net

Gussie Revercomb
Gussie has been playing both school and club volleyball since the 6th grade. Her school teams at North Cross have been incredibly successful, winning the Division III state championship in 2009 and in 2010, and they were runner-ups in 2011. Gussie has been named both all-conference and all-state in 2010 and 2011. In the 9th grade, Gussie played for Coach Houser's 15N team along with Lynsey below, then played again for him on his 16N team the next season. You can be in touch with her at grevercomb13@gmail.com

Mairin Guilfoyle
Mairin is a 2013 graduate of Roanoke Catholic School. She has played 5 years of varsity volleyball, 2 years of JV, and 5 years of club. She has been the team captain of her school team the past 2 years, and they've won the state championship in their division both years. You can contact Mairin at mairinara813@cox.net


• RoanokeCatholic2008• • RoanokeCatholic2009 • RoanokeCatholic2010 • RoanokeCatholic2011 • RoanokeCatholic2012 • RoanokeCatholic2013 • RoanokeCatholic2016



~~~~~~~~~~~~~~~~~


Roanoke Catholic School
info:

Touch here to see the RCS website.

Roanoke Catholic School
621 N. Jefferson St.
Roanoke, VA 24016 · (540) 982-3532

Touch here for directions to the school.


• Home • CampHostingInfo • StandardCamp • HighExpecationsCamp • MaxExpectationsCamp • Staff • In-SeasonClinics • 10ReasonsWhy • Camp Calendar2013 • A Complete List! •
• 2005 STAR Calendar • Bassett2005 • BassCommCenter2005 • JeffersonForest2005 • Westover2005 • Narrows2005 • AnEntireList • Search CoachHouser.com •
• 2006 STAR Calendar • JeffersonForest2006 • WestoverChristian2006 • Lebanon2006 • NewCovenant2006 • Bassett2006 • RedLionDE2006 •
• 2007 STAR Calendar • WestoverChristian2007 • JeffesonForest2007 • Timberlake2007 • RedLionDE2007 • OconeeSC2007 •
• 2008 STAR Calendar • WestoverChristian2008 • Jeff Forest HighExp 2008 • JeffForest2008 • StMary'sPA2008 • RoanCath2008 • RedLionDE2008 •
2009 STAR Calendar • FranklinCo2009 • Riverheads2009 • HighExp@ECGlass2009 • Timberlake2009 • RoanCath2009 • Fuqua2009 • StMarysPA2009 • ChugiakAlaska2009 • RedLionDE2009
2010 STAR Calendar • DanRiver2010 • HighExp@VES2010 • Timberlake2010 • RoanCath2010 • StMarysPA2010 • VirginiaEpiscopal.2010 • PatrickCounty2010 • Fuqua2010
• Home • 2011 STAR Calendar • Timberlake2011 • DanRiver2011 • JamesRiver2011 • HighExp@VES2011 • MaxExp@VES2011 • RoanCatholic2011 • Carlisle2011 • PatrickCo2011 • Westover2011 • Facebook •
• Home • 2012 STAR Calendar • Timberlake2012 • Dan River2012 • MagnaVista2012 • HighExp2012 • MaxExp2012 • Westover2012 • RoanokeCatholic2012 • Carlisle2012 • PatrickCounty2012 • PaulVI2012 • JohnBattle2012 •
• Home • 2013 STAR Calendar •Appomattox2013 • HighExp2013 • CollegeExp2013.htm • MacArthurOK2013 • RoanCath2013 •Chatham2013 •HillcrestMiddleCA2013 •Westover2013 • JohnBattle2013 • SouthCaldwellNC • Facebook 2014 Camp Calendar • FoothillsVballClubSC2014• StateLineClub2014 • Appomattox2014 • Gretna2014 • HighExp2014 • CollegeExp2014 •AnalyCA2014 • JohnBattle2014 • WestoverChristian2014 • PatrickCounty2014 • LibertyVa2014 • Facebook •
• 2015 Camp Calendar • PatrickHenryCommCollVa2015 • AlleghanyVa2015 • LebanonVa2015 • HighExpVA2015 • CollegeExp2015 • ElMolinoCA2015 • HighExpCA2015 • FoothillsVballClubSC2015 • PatrickCountyVa2015• WestoverChristianVa2015 • GretnaVa2015 • SouthCaldwellNC2015 • Facebook •
• 2016 Camp Calendar • ArundelRookieMD2016 •SweetBriarHighExpVA2016 • SweetBriarCollegeExpVa2016 • SonomaCountySTARCA2016 • SonomaCountyHighExpCA2016 • WestoverChristianVa2016 • PatrickCountyVa2016 GretnaVa2016 • ArundelH.S.PrepMD2016 •McMichaelNC2016 • Facebook •
2017 Camp Calendar / DanRiverVa2017 / ChristiansburgVa2017 / WilliamMonroeVa2017 / GeorgeWashingtonVa2017 / HighExpVA2017 / CollegeExpVa2017 / RockbridgeCoVa2017 / PatrickCoVa2017 / FortChiswellVa2017/ CarrollCountyVa2017 / GretnaVa2017 / McMichaelNC2017 / Facebook