2015 College Expectaions
Award Winners!!









• Home • CampHostingInfo • StandardCamp • HighExpecationsCamp • MaxExpectationsCamp • Staff • In-SeasonClinics • 10ReasonsWhy • Camp Calendar2015 • A Complete List! •
• 2015 Camp Calendar • PatrickHenryCommCollVa2015 • AlleghanyVa2015 • LebanonVa2015 • HighExpVA2015 • CollegeExp2015 • ElMolinoCA2015 • HighExpCA2015 • FoothillsVballClubSC2015 • PatrickCountyVa2015• WestoverChristianVa2015 • GretnaVa2015 • SouthCaldwellNC2015 • Facebook •





| | |
| --- | --- |
| | |
| Cameron Blankenship (Bassett High, Bassett Va) was named Hitter Of The Week! | Hillary Hettinger (Midlothian High, Richmond Va) was named Setter Of The Week! |
| | |
| Harper Scollo (Chatham High, Chatham Va) was named Passer Of The Week! | Emily Thackston (Morehead High, Eden NC) was named Digger Of the Week! |
| | |
| Lauren Sword (Richlands High, Richlands Va) was named Server Of The Week! | Bristol Upchurch (Carroll County High, Hillsville, Va) was given the Coach's Award. This award was given to the girl who sacrificed the most for team. |
| | |
| Catherine Reinard was given the Blocker Of The Week award! | Haley Armacost (River Hill High, Clarksville Maryland) was named the camper who hustled the most! |
| | |
| Maddie Lawrence was given the "Team Award" for bing an all around player who also picks up her teammates! | Morgan Thompkins (Carroll County High, Hillsville Va) was named the Camper Of The Week! |
Team Pictures From College Expectations!
(If I have a name wrong, please contact me!)

The Intimidators finished in 1st place, going 4-0!!!]
In back are Monica Parrott, Maddie Lawrence, Coach Blair Trail, Coach Katey Holley, Haley Armacost and Amy Goodman.
In front are Bayli Shivley and Catherine Reinard




The Piggies finished 2-2 and tied for 2nd place with the White Tigers & Black Outs!
Morgan Ratcliffe, Bailee Heatwole, Cameron Blankenship, Jena Alley, Katherine Lake, Abby Keehn, Bristol Upchurch.
Coach Miller said, "Some of my teams at this camp have created some strange names....but 'The Piggies'??".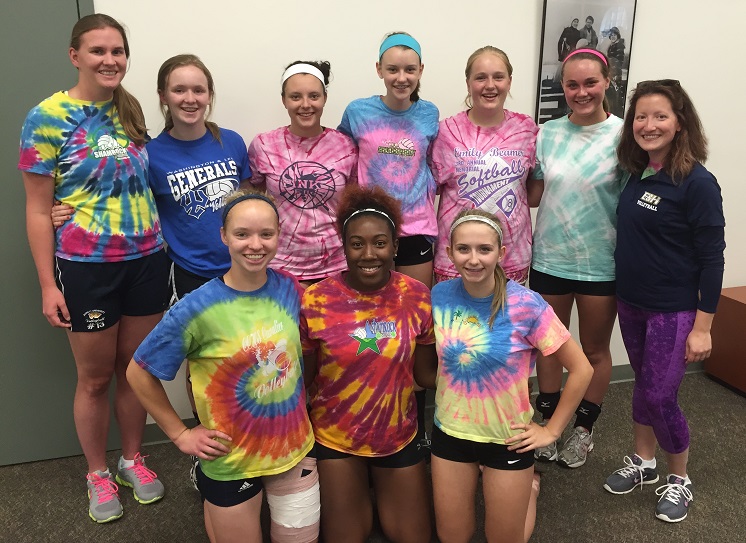 Here are the Beach Babes. So proud of Hannah Berlin for changing teams and setting for someone who was injured! That was awesome of you!!!
In the back row: Coach Sarah Hammon, Hannah Berlin, Bailey Delby, Jessica Beam, Hannah Quesinberry, Sara Brooks, and Coach Devyn Bayes. In the front row: Morgan Thompkins, Tiana Taylor and Lindsey Hite.
In back are Coach Sarah Hammon, Maryah Haley, Sami Massey, Bailee Heatwole, Hannah Kincaid and Coach Devyn Bayes!


The Black Outs finished tied for 2nd!!
In the back: Whitney Bolton, Emerson Scollo, Abby Hall, Megan Pace, Coach Allison Sparks, Elizabeth Giles.
In front: Harper Scollo, Taylor Woodlief, Coach Tom Houser.



The White Tigers were 2-2 and were awesome! Tied for 2nd with Black-Outs and The Piggies!
In the back: Adrienne Harris, ___, Hillary Hettinger, Emily Thackston, Moorgan Loomis, Coach Kara Matthews.
In front: Lauren Sword, Coach Maribeth Kern and Paige Spencer.