2015 High Expectaions
Award Winners!!









• Home • CampHostingInfo • StandardCamp • HighExpecationsCamp • MaxExpectationsCamp • Staff • In-SeasonClinics • 10ReasonsWhy • Camp Calendar2015 • A Complete List! •
• 2015 Camp Calendar • PatrickHenryCommCollVa2015 • AlleghanyVa2015 • LebanonVa2015 • HighExpVA2015 • CollegeExp2015 • ElMolinoCA2015 • HighExpCA2015 • FoothillsVballClubSC2015 • PatrickCountyVa2015• WestoverChristianVa2015 • GretnaVa2015 • SouthCaldwellNC2015 • Facebook •





| | |
| --- | --- |
| | |
| Cameron Davis (Giles County High, Pearisburg, Va) was named Hitter Of The Week! | Mikayla Burton (Holy Cross School, Lynchburg, Va) was named Blocker Of The Week! |
| | |
| Mary-Randall Plunkett (Lord Botetourt High, Daleville, Va) was named Passer Of The Week! | Alexis Ellis (Lord Botetourt High, Daleville, Va) was named Digger Of the Week! |
| | |
| Hannah Kincaid (Alleghany High, Low Moor, Va) was named Server Of The Week! | Kennedy Clemmer (Rockbridge County High, Lexington, Va) was named Setter Of The Week! |
| | |
| Abby Harlow (Turner Ashby High, Harrisonburg, Va) was given the Hustle Of The Week award! | Katherine Lake (North Cross School, Roanoke, Va) was named The Most Spirited Camper! |
| | |
| Jaydyn Clemmer (Rockbridge County High, Lexington Va) was named the camper with the most Scary Potential! | Chloe Ingersoll (New Covenant School, Lynchburg Va) was named the Camper Of The Week! |
Team Pictures From High Expectations!
(If I have a name wrong, please contact me!)

The Intimidators were 3-0 in pool play, then finished 2nd in the tournament.
In back are Coach Allison Sparks, Coach Jessica Flanagan, Taylor Haymore, Jenna Hamilton and Camryn Blair.
In front are Grace Wolowski, Katherine Lake, Jaydyn Clemmer and Mary-Randall Plunkett !




The Pink Panthers were in 3rd place after pool play, but won the tournament!
In back: Mikayla Burton, Jessica Beam, Coach Hannah Shields, Coach Danny Miller.
In front: Amanda Vie, Virginia Hicks, LauraHicks, Kaylee Brady, Cameron Davis and Kennedy Clemmer.




The Beach Babes finished 3rd in the tournament!
The Tie-Dye Tigers are (in front) Laken Lucas, Alexis Ellis and Elyse Farrell!
In back are Coach Sarah Hammon, Maryah Haley, Sami Massey, Bailee Heatwole, Hannah Kincaid and Coach Devyn Bayes!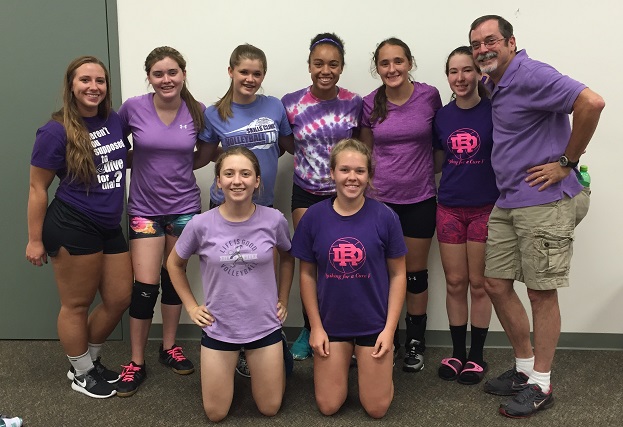 The Purple Pumas finished 2nd in pool play!
The team members are Jensen Schram and Kristina Silverman in front.
In back: Coach Katey Holley, Bay Twilla, Abby Harlow, Chloe Ingersoll, Emerson Scollo, Jordan Bayes and Coach Tom Houser.